Thanks to a blend of cold weather, a recommendation of a friend, and binge watching on Netflix, I have seen four seasons of the show
Breaking Bad
. Forget running from away from zombies in The Walking Dead and old world advertising agencies in Mad Men, Breaking Bad is basic chemistry yo in the ABQ.

Bryan Cranston (middle) leads the phenomenal cast of Breaking Bad.
Be careful, this show is addictive.
Credit
My blog title comes from the show's protagonist, Walter White (Bryan Cranston), a chemistry teacher from New Mexico who transforms from a normal family man to a mad scientist who delves into the drug cartel business with his former student, Jesse Pinkman (Aaron Paul). The drug of choice? Meth.
I can honestly say the first season was average but watching from the beginning is essential to see the change of each and every character. As the series goes on, you see the slow burn of moral decay of a man who is just trying to provide for his family.
And then the fourth season comes along and man oh man is it the best season of television I have ever seen. Every episode is filled with so much tension that I hold my breath because each character is portrayed brilliantly and each line written with purpose. I cannot forget to mention the perfect antagonist to Walter, Gustavo Fring who is played masterfully by Giancarlo Esposito. Walt and Gus duke it out and the season four finale was mind-blowingly insane.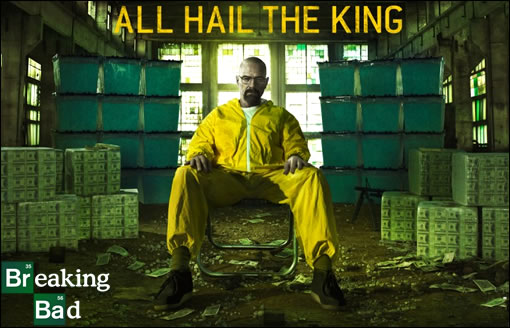 The poster for the fifth and final season. After what happened
in season four, I have no idea what's going to happen next.
Credit
The fifth and final season of Breaking Bad has aired the first half already and the final 8 are coming this summer. No other show besides Game of Thrones matches the caliber of this show. If you have AMC or Netflix, watch Breaking Bad.
RANDOM RECOMMENDATION:
The salted caramel donut in
Brindle Room
located in the East Village. It is a tiny hole in the wall that's easy to miss. Go in and ask for donuts and they'll bring you one (or however many you want) fresh out of the fryer.